Why Braces
For the vast majority of orthodontic patients, wearing fixed appliances (commonly called braces) will be a major part of treatment — and those braces, for the most part, will be the familiar silvery-metal type. But while they're still quite popular, traditional-looking metal braces are no longer the only game in town! Let's have a look at some of the options available in orthodontic appliances.
First, we should distinguish between fixed and removable appliances. Fixed appliances like braces are attached to the teeth by metal bands or special cement. They aren't normally taken off until treatment is complete.
Metal Braces
Typically made of high-grade stainless steel, traditional metal braces remain by far the most common type of fixed orthodontic appliances. A thin, springy metal wire, running through the brackets, gently guides the teeth into a proper position.
There are many good reasons why time-tested metal braces remain popular — because they offer a reliable, effective and economical treatment option. In contrast to the appliances of the past, today's braces are actually smaller, lighter, and more comfortable to wear.
Ceramic braces
Clear ceramic braces are a new variation on the traditional system that provides a far less noticeable method of treatment. They use the same components as traditional braces — except that the brackets on the front side of the teeth are made of a translucent ceramic material that blends in with the tooth's natural color. This system has become a favorite for adults (including some well-known celebrities) because, unless you look closely, it's hard to notice they're there.
Damon Clear is part of the Damon System Dr. Bouquein uses in his practice.
Ceramic braces cost more than metal — but for many people, the benefit of having an inconspicuous appliance outweighs the costs.
Related Articles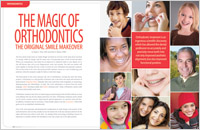 The Magic of Orthodontics Proper alignment of the teeth is basic to "Smile Design." Their position dictates how they work together and affects the way you look and smile. Only orthodontic treatment can move teeth into the right position. Simply put, when things look right, they probably are right. Learn the basics of smile analysis and design and whether the magic of orthodontics will work for you... Read Article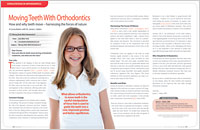 Moving Teeth with Orthodontics Moving teeth orthodontically is a fascinating process by which the bone that surrounds and supports teeth is gently forced to remodel itself. Orthodontics moves teeth with a careful manipulation of force that guide the teeth into a new, improved position and better equilibrium. Light, constant forces applied to the teeth allow them to move in a predictable manner and direction... Read Article